happy new year to all my GDNJ friends! Wishing you all the best for 2018!
  We had a fabulous amazing magical time in Iceland, we flew out on the 28th and came back the 1st. Highlights were seeing killer whales and a humpback whale in the bay, bathing in the heated pools, the fireworks and a bonfire on New Year's Eve, and ice skating on the frozen river( even tho I was rubbish.. huge bruise on my knee to prove it)  mya had a blast too, it was really an adventure. Would love to go again , it's just sooo ridiculously expensive out there for everything. Anyway, now back to normality. 
  My life is getting really busy , I'm having to write to do lists all the time, to make sure I don't forget. I have a bit of a shitty time coming up for me at work… I fantastise sometimes about just quitting but I do love my job. It's just all the cover ups and liars I cannot stand (and this a minority) I am just praying that it will all work out in the best way possible. 
Mya begins school nursery next week too.. I have a ton of paperwork to complete for her. That's the next thing on my list! It's a big step for her. 
Anyway today we are going to take her to a play place and then hopefully have a wander round the town.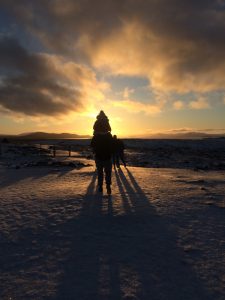 This is my best picture.. mya on Andrews shoulders looking out at the sunset in Iceland 🇮🇸 I think I will get it made into a canvas for the wall x