6.20am woke, found some things out of order. Laundry wasn't mashed again but it was stirred and items were spread, example a shirt's sleeves were spread out over the laundry letting me know someone messed with it. His entry point has to be downstairs. Either main floor or basement. Main floor has screws in windows. Even though back door is usually barricaded with butter knife, I'm thinking he has a way to get in there. I just don't know for certain. Nor do I know how to secure it, there's so much play on that door frame from being pushed into the house. 
Garlic oil on crucifix. Former roomie also smelled it. 
Garlic oil on bedroom closet hook. 
Oil in tub again. 
Garlic oil in my belly button. 
The guys told me last night, actually very early this morning it would have been, the cats were going nuts and fighting alot. Green has something he sprays to get cats riled. Roomie has never heard them crazy like that and hes been here since April. 
12.00pm noticed tan truck across street from Green. Hes wearing girdle, sleeveless black tshirt, Jeans and white hat. Woman who we've seen at his house before, a blonde long hair and heavy set got into passenger. Other vehicles trickled down the street behind him.
6.40pm noticed garlic oil on basement door. No one noticed it earlier.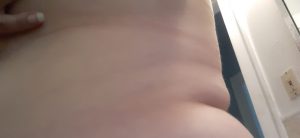 left side. Dear lord this doesn't look like stomach and back to me, but this has become me. I wo der If that's why I feel so sick.
back. Not only a dark spot on center but the folds in my back weren't there since a few weeks I left the homeless shelter. Idk if it's swelling, but it's been painful around my gut and back for a long time.